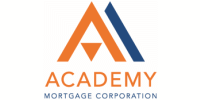 Founded in 1988, Academy Mortgage is one of the nation's largest and most respected independent mortgage lenders. Academy's mission is to be 1st CHOICE in delivering the dream of sustainable homeownership by inspiring hope and building prosperity in the lives of our employees, builders, realtors, and the communities we serve. To accomplish this goal, we continue to do what we do best:
We are 100% focused on retail mortgage banking.
We deliver exceptional mortgage service.
We are committed to responsible lending practices.
We hire and retain the industry's best mortgage professionals.
We provide market-leading mortgage solutions and tools.
Consumer Information:
Contact Kevin Kosisky, District Manager
2694 E Southern Ave Mesa AZ 85206
480-892-0000
kevin.kosisky@academymortgage.com
www.academymortgage.com

Academy Mortgage is dedicated to working with borrowers to help them realize the dream of homeownership.

NMLS #155994 | State Lic #0914146 | Corp NMLS #3113 | Corp Lic #BK-0904081 | Equal Housing Lender