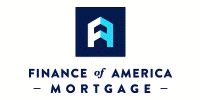 Since Finance of America Mortgage's inception, our company's success has been fueled by our core values - Teamwork, Excellence, Positivity and Empowerment. We hold these to the highest importance in everything we do. We have experienced exponential growth since 2008 and have funded nearly $20 billion in volume in the last 3 years alone, making FoAM a Scotsman Guide Top Mortgage Lender for 3 years in a row! FoAM is headquartered in Roseville, California, currently lends in 12 states and has over 1,800 employees. The Southwest Regional Center opened in Phoenix in 2009. There are 21 branch locations through Arizona.
Finance of America Mortgage's President is Robert Boliard.
In Arizona, FoAM is led by Southwest Regional Vice President, Brad Allen and Southwest Regional Sales Manager Scott Doren.
Consumer Information:
Southwest Regional Office
7250 N. 16th Street, Suite 200
Phoenix, AZ 85020
602-345-2300
www.financeofamerica.com
Find a branch near you - www.financeofamerica.com/locations/

Contact Scott Doren for more information:
480-383-9055 or sdoren@pcmloan.com