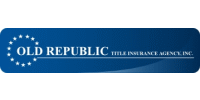 Old Republic title Company and its underwriter Old Republic National title Insurance Company provide title and escrow products and services for individuals, businesses and governments. Our services are highly comprehensive and flexible to respond to changing market environments and to ensure your transaction is settled according to the most current industry standards. We're committed to expediting the timely close of your real estate transaction by underwriting and managing each transaction with the highest level of technical skill, client services and professional integrity.
"Success on Your Terms"
Old Republic Title was founded in 1907 - Wow! 108 Years! We have been doing business in Arizona since 1969.
These are our leaders in Arizona -
Michelle Schwartz, Sr. Vice President, Arizona Operations
Patti Shaw, Vice President, Escrow Operations
Ramon Castillo, Chief Title Officer/Title Manager
Kristi Smith, Sales Manager

Our corporate address in Arizona is --
2375 E. Camelback Road, Suite #180
Phoenix, AZ 85016
www.ortconline.com

AMLA Member Lenders and Realtors - For more information, contact -
Michelle Schwartz - (480) 586-8417
Patti Shaw - (602) 631-3701