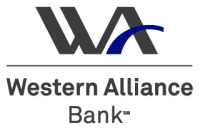 Western Alliance Bank was founded in 2003 by Robert Sarver. We are a $25 Billion commercial bank with expertise in a wide variety of areas. Specific to the mortgage industry, we are a leader in Warehouse and MSR lending with a focus on tailoring our solutions to our client needs. We have 37 branches located in Arizona, Nevada and California. Ken Vechione is the CEO of Western Alliance and Steve Curley is the division president for the Warehouse group.

Western Alliance Bank is located at:
1 East Washington Street
Phoenix, AZ 85004.

Our web address is https://www.westernalliancebancorporation.com and our phone number is 602-389-3500.

You may contact David Bernard, SVP at dbernard@westernalliancebank.com or (818) 532-7616, or Jeff Ehrlich, VP at jehrlich@westernalliancebank.com or 480-384-3817.