In an effort to protect the health and wellness of participants, facilitators and support staff in the wake of the COVID-19 pandemic, AMLA has cancelled SAFE Act classroom training for the remaining of the year. We are excited that Genworth and Mary Kay Scully have already committed to be here for our training in 2021. AMLA and Genworth have had a wonderful partnership with our SAFE Act training classes since 2011, and we look forward to continuing it for many years.
For 2020………AMLA has arranged with Hondros Education Group a discounted rate for AMLA's loan originators to take their 8 hours of required CE online. The class is normally $128.00, but for AMLA members it is $78.00. This fee includes uploading fees to NMLS. We encourage loan officers to take this class, so that next year when we once again offer the classroom format, we don't have to worry about duplication of material from another school. NMLS requires that from year to year, material must be new. It would be impossible for AMLA to track whether material from another school might duplicate material that Hondros gives us in 2021.
 Feel free to call Hondros directly at 800.282.7972 with questions or the AMLA office at 623.433.8940.
 We know that an online class is not the first choice for many of you, but your safety is our most important concern. Thank you for your understanding and continued participation in AMLA events. Please let us know how if there is anything we can do to help during these challenging times, and please stay safe.  
 Sherry Olsen, VP, Education, AMLA
================================================================
The Arizona Mortgage Lenders Association is an approved NMLS classroom provider. This course will satisfy the requirements set forth by the Secure and Fair Enforcement Mortgage Licensing Act for a comprehensive 8-hour continuing education course for mortgage loan originators. The course covered topics required by the SAFE Act — (3hrs) of federal law, (2hrs) of non-traditional mortgage lending, (2hrs) of ethics (which shall include fraud, consumer protection, and fair lending issues), plus (1hr) of Arizona state law.
AMLA has partnered with Genworth to provide our members with outstanding classroom instruction for the 8 hours of CE required by NMLS. Seven of our eight hours are taught by Mary Kay Scully.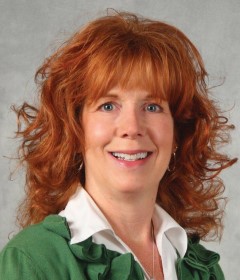 MaryKay Scully is Genworth's Director of Customer Education, leading the development of our customer education curriculum. With 24 years' experience at GE/Genworth, she has also served as an E-Business Development Manager, Director of Customer Education and Organizational Effectiveness, and as a Service Center Manager. Prior to Genworth, she held Loan Officer positions at various mortgage companies in the Mid-Atlantic states. MaryKay's extensive and varied experience make her a nationally sought after instructor and round table participant for topics as far reaching as Purchase Transaction Best Practices to TRID.
MaryKay is a graduate of the National School of Banking and received an MBA in Business Administration/Management from Fairfield University, Fairfield, CT. She has held Series 7 and Series 63 (Uniform Securities Agent License). She holds a Six Sigma Quality, Green Belt Certification and is a Certified Trainer in DiSC Behavioral Profiling.
The one hour of Arizona State Law is taught by Arizona lenders, including Nick Monardo from CNN Mortgage and Past President of AMLA and Sherry Olsen from Define Mortgage Solutions and AMLA's Vice President of Education.