Adam Wain — President
CNN Mortgage
480.824.3969
Email: awain@cnnmortgage.com
Jeff Ehrlich — Vice President of Advocacy
Western Alliance Bank
586.481.0363
Email: jehrlich@westernalliancebank.com
Sherry Olsen — Vice President of Education
Desert Financial
602.695.3825
Email: sherry.olsen@desertschools.org
Tracie Wain — Vice President of Membership
Arch MI
203.515.6613
Email: twain@archmi.com
Fletcher Wilcox — Vice President of Networking
Grand Canyon Title
602.648.1230
Email: fwilcox@gtca.com
Debbi Hill — Executive Director
27460 N. Cardinal Lane – Peoria, AZ 85383
623.433.8940
Email: AMLA@zona.net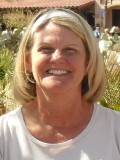 About Debbi Hill
Debbi Hill began her LONG journey with AMLA in October of 1986. She, her husband and 2 small children had recently moved to the Phoenix area from the suburbs of Chicago. Debbi wanted to work part time until the children were a bit older and answered an ad in the Arizona Republic for a part time administrative assistant. When asked what she knew about the mortgage industry, she gave an honest reply – "not much, except that I've been through the process several times." When asked about her job experience, Debbi told them about her work with troubled teenagers at a residential facility, Maryville Academy located in Des Plaines, IL. For whatever reason, the interviewers found this experience to be a perfect match to work with mortgage bankers.
Debbi decided she would stay with AMLA for one year and then return to social work. However, she was surprised at how interesting the job would prove to be – both by learning about the complexities of the mortgage industry and also learning about the ins and outs of meeting planning and hotel contract negotiation. Debbi took some basic mortgage banking courses and joined the local group of MPI (Meeting Planners International) and AzSAE (Arizona Society for Association Executives). In 1994, Debbi and the AMLA Board mutually decided it was time to have a full time Executive Director. And the rest, as they say, is history. After 30 years with AMLA, Debbi still finds the job challenging and truly enjoys working with AMLA's members.
Debbi has a Bachelor's Degree in Psychology/Sociology from Elmhurst College. She and her husband, Andrew are avid tennis fans and dog rescuers. They currently have a rescue pup named Kalie.